This week's challenge was to "go green" on a layout.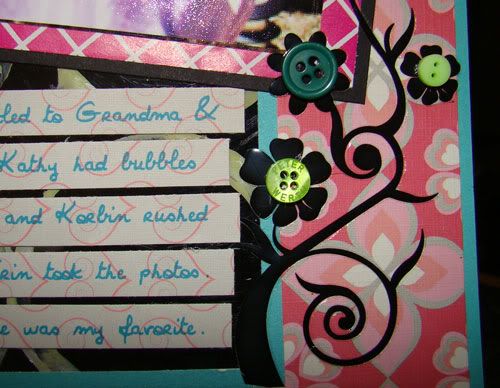 There are several "green" elements to this project. First, I cut and used the acrylic packaging from a Fancy Pants biggest chipboard in the center of this layout. I then took a bottle cap from a Making Memories flower jar and dipped it into a paint and glaze mixture and stamped it onto the back side of the acrylic packaging. The patterned paper is manufactured by Paper Trunk which uses recycled paper. Finally, I literally took a piece of the earth and placed it on this layout...a small twig that I grabbed from my childhood home this past weekend.
Supplies:
Patterned Paper (Paper Salon)
Stickers (Adorn It, Sticker King)
Paint (Ranger, Making Memories)
Marker (Souffle)
Flowers (Heidi Swapp--green, small blue)
Buttons, Flowers, Wrapping Paper (ScarletLime.com April 2009 Kit)
Adhesive (Ad Tech, Glue Dots)
Other: Clear acrylic, bottle cap, twig, ribbon
Journaling:
April 11, 2009 -- We traveled to Grandma & Grandpa W's to celebrate Easter. Grandma Kathy had bubbles and little candy boxes for each of you. You and Korbin rushed outside to blow bubbles and your cousin Erin took the photos. This one was my favorite.